French Bulldog Puppy: What To Know Before You Buy: French Bulldog puppies are irresistible, but they're also extremely time-consuming. If you haven't had a puppy before, you might not understand what you are about to get into.
It's one kettle of fish to be prepared for a dog, particularly an adult dog. But rearing a puppy requires a higher level of commitment.
Frenchie puppies have to be fed three or four times a day. They have to be taken outdoors shortly after eating or drinking so that they can adequately go to the toilet. Puppies are going to have incidents in the house while they're still being house-trained. That could entail a lot of cleaning up.
They might wake you up a few times in the night. Is it because the puppy needs to go outside, or maybe it's just because of the puppy's bored.
They can't be left alone for more than a couple of hours. The puppy should stay in a crate alone; it helps in training and keeps the puppy from chewing everything in your house. After several hours, however, a puppy won't hold their bladder and will need to be taken to the toilet.
Frenchie Puppies can be destructive. They're starting to explore, chew, sniff, and potentially even eat stuff in their environment. They don't know proper dog manners, and they can act unruly.
All puppies have to be trained and socialized; they also need exercise. These things are a significant time commitment.
If you get a French Bulldog puppy, be expected to spend a lot of extra time with them, particularly in the first few months. If this feels too much, but you still want a dog, try to adopt an older dog.
---
What To Do Before Bringing A Puppy Home.
French Bulldog Puppy Proofing Your House.
You must prepare your house before your little Frenchie comes home with you. Do your utmost to protect every area of your home. Destructive puppy behaviour is normal, upsetting, and can be harmful to your dog. Your puppy is sure to find all the stuff that could hurt them.
Get down to a puppy eye-level and look for hazards:
| | |
| --- | --- |
| Hide all electrical cords as best as possible | Lock cabinets, especially those that contain food or medications, toxic chemicals, and other household items that may be dangerous. |
| Keep houseplants up high where your dog cannot chew their leaves. | Get a trash can with a locking lid or keep the bin behind closed doors. |
| Keep laundry, shoes, and other small items out of reach. Puppies sometimes chew on and/or swallow these. | |
Little French Dog is a participant in the Amazon Services LLC Associates Program, an affiliate advertising program designed to provide a means for sites to earn advertising fees by advertising and linking to Amazon.com.
The best way to maintain your Frenchie safety is to keep it under control at all times. Keep your puppy in a crate while you're away.   A puppy shouldn't have full access to the house until they are older and well trained.
Have Some Essentials Ready To Go
You will need a lot of dog supplies before you bring your new puppy home. Start with the basics before you end up with a bunch of things you don't need, like toys that your puppy doesn't enjoy, or beds that your puppy doesn't sleep on. You're going to need these few basics, to begin with:
| | |
| --- | --- |
| Basic four- to six-foot leash | Puppy food |
| Adjustable collar with ID tags | Dog crate with room to grow |
| Metal or ceramic pet bowls for food and water | Simple dog bed with room to grow |
| A brush, comb, or grooming mitt appropriate for your puppy's coat | A few simple dog toys  |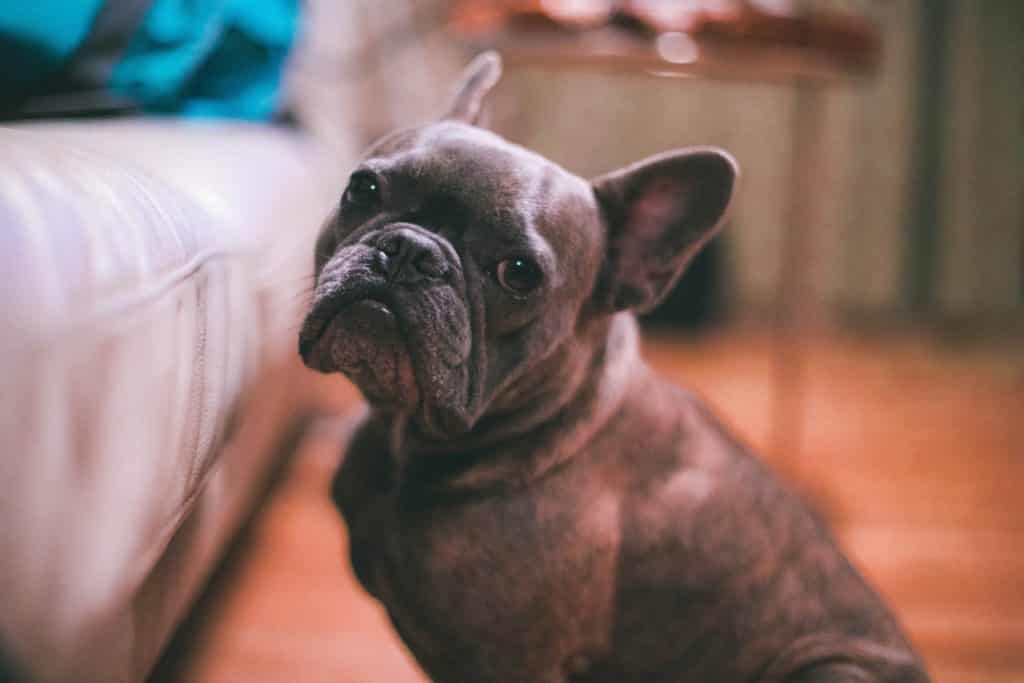 ---
Where To Find Your New French Bulldog Puppy
Locating a trustworthy French Bulldog breeder that has healthy French Bulldog puppies for sale but offers reasonable rates is no simple job. The overwhelming popularity of Frenchies has risen in the last few years, and now French Bulldog puppies are in increased competition and sometimes have a very hefty price tag.
Unfortunately, this has culminated in many amateur breeders seeking to get involved in the action and make some fast money from selling unhealthy puppies.
Reputable breeders identify the male and female parents with extreme care when breeding French bulldog puppies. If dubious bloodlines are used in the breeding process, it may result in French Bulldog puppies developing severe health problems or exhibiting unhealthy social characteristics that are hard to train out of your new puppy.
When To Be Suspicious Of French Bulldog Breeder.
| | |
| --- | --- |
| No health or vaccination guarantee | Unregistered with the American Kennel Club |
| Hesitate to provide the medical background of the puppy | Unable to answer simple questions about the French bulldog's breed |
| Mostly selling puppies to stores | Offering a shipping service where you aren't able to view the puppy |
| Allowing puppies to be sold before they are twelve weeks old | Unable or unwilling to allow you to meet the puppy's parents |
---
Bringing Your French Bulldog Puppy Home.
Car Trip Home
Have a friend to come along with you when you're going to pick up your French Bulldog puppy. Young Frenchies, who haven't been on a car trip before, can be scared. Sometimes adult dogs can get anxious — and a turmoil-filled car journey can turn into a long-lasting irrational fear of car travel.
Tell someone to sit next to your Frenchie Puppy on the ride home, soothe them and keep them from jumping into your lap when you're travelling.
If your dog is also used to a crate, you should put it in a crate for the ride home. Just make sure it's safe; moving around the back seat will make the drive more unpleasant.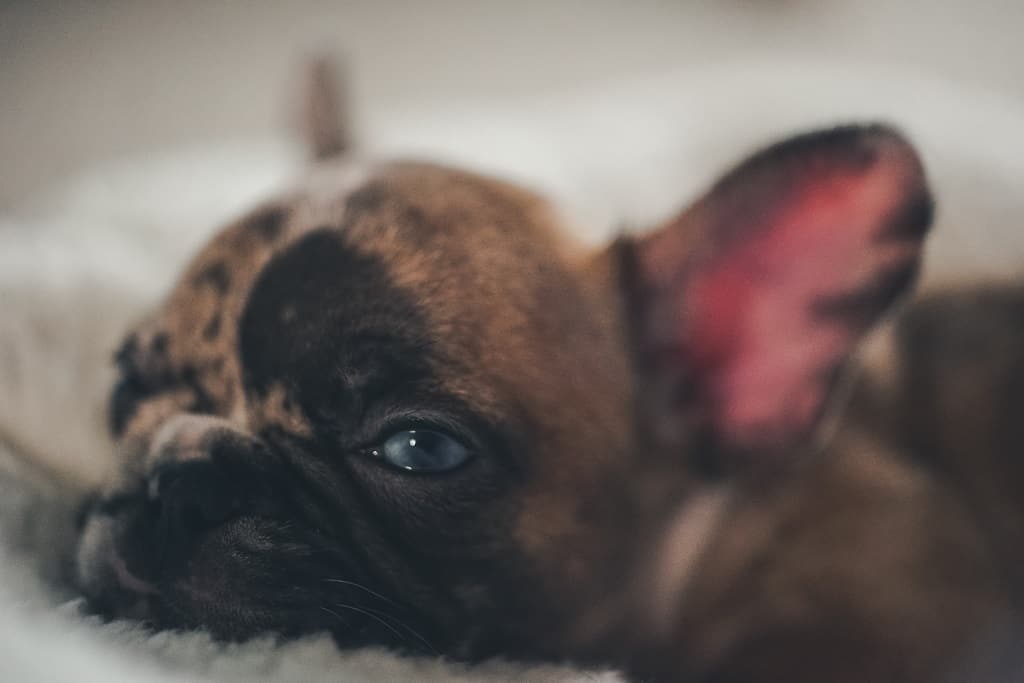 When You Arrive Home
You have taken the first car journey and stepped through the front door with your new puppy. You're both going to begin the adjustment period. This time is critical because it's going to be your dog's first experience of their new place, so make it a good one! Here is a couple of ideas.
1. Keep It Nice And Low-key
For a timid puppy being taken to a whole new location and then inundated with lots of bright, friendly strangers may be daunting. For the first day or two, keep your disposition soft and relaxed. 
2. Introduce Your Frenchie To Their Crate
Crates are the fastest way to house train your puppy, but most dogs need a little time to get used to them.
It isn't complicated to do; you have to learn how to place your Frenchie in their crate. Here's a beginner guide to training your Frenchie to crate.
3. Training Time
The sooner you begin, the quicker and more natural it becomes to teach proper manners, and the more comfortable the lessons will be.
The two main significant things to educate your puppy are housebreaking and socialisation, making them familiar with other people and animals.
4. Start A Routine
A routine helps to train your Frenchie at home and is comforting your dog.
Identify a routine for hikes, meals, bath breaks, and exercise – and seek to stick to it as best you can.
5. Find A Vet You Like
The first visit to a puppy's Vet must be a fun one so that your French Bulldog learns to enjoy their visits to the Vet. Asking for referrals is a great way to find out who are the excellent Vets in your area. Then your first appointment. Your Puppy is going to need a check-up and probably some vaccinations.
Word of mouth is a perfect way to locate a reliable vet close to you.
6. Apply For Your Dog License
Having a dog licence is a regulatory requirement in most areas in the United States, although local requirements differ. However, this is an essential move, and your dog's tag would be used to get them back to you if they do get lost.
You might also want to have your Frenchie microchipped for additional protection. Check with your nearest animal care and control to check out how to get your dog certified. You might be able to apply online.