Best French Bulldog Diapers: As your French Bulldog gets older, incontinence could become a problem. Unfortunately, it is a reason why most people put their pets to sleep, which is heartwrenching, because it's easy to handle with the appropriate products, such as reusable dog diapers and disposables.
In this article, we will tell you about our Top 5 recommendations. All Kind Disposable, Pet Magasin Washable Belly, Pet Magasin Reusable, FinNero Ballerina Heat Dog Pants and Paw Inspired Washable.
Though most dog diapers for incontinence are made for older dogs, they are also useful for teaching young Frenchies, male dogs that mark their territory as well as female French Bulldogs in heat.
When house training of a young Frenchie, a recyclable diaper could be the best choice due to the obvious convenience.
Male vs Female Diapers
For you male French Bulldog a washable diaper is recommend, look for a broader base with a lengthier waist, so that the front of the diaper is above the penis.
Female Frenchies using washable dog diapers do not necessitate as much length. Locating one that is specifically built for females will prevent unwanted and unpleasant, excess waste.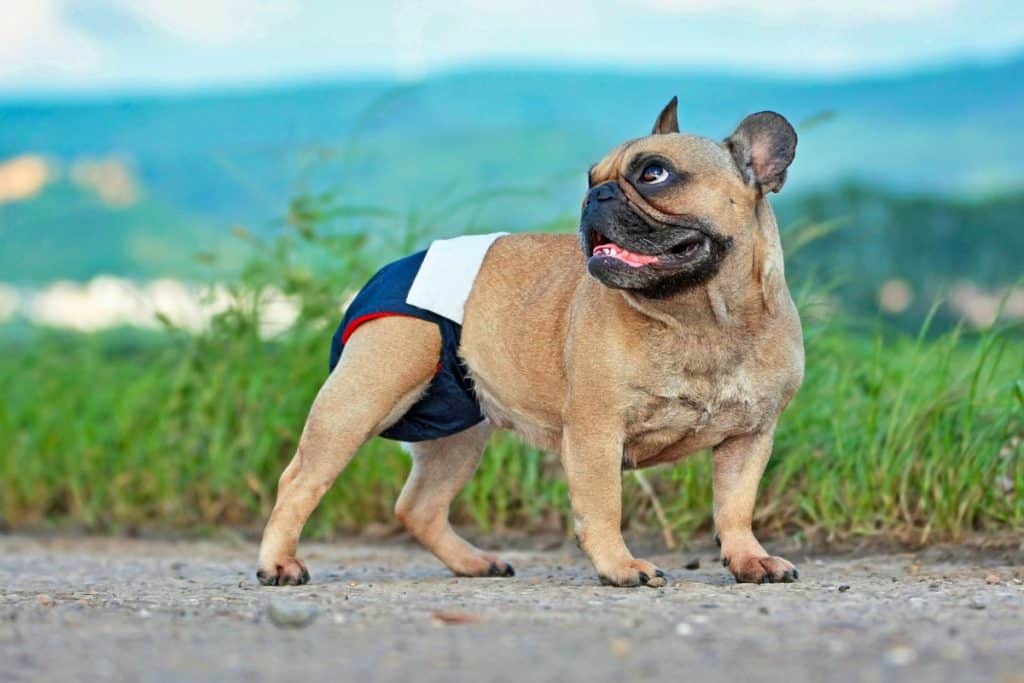 Measuring Your Frenchie
Obviously, it depends on the brand. The dimensions may well be based on weight or the size of your Frenchie's waist. To measure your French Bulldog, measure around their waist, approximately two inches in front of its hind legs.
While they are standing, use a tape to measure around their waist. When your Frenchie is at the end of a size or between sizes, we would suggest using one size up. Please pay attention to the width of the bands in terms of the distance between the front and back legs of your French Bulldog. This will ensure that they are sufficiently covered.
---
1. All Kind Disposable Male/Female Dog Wraps
We are starting with Disposables. Even though we recommend reusable diapers there are times when you are out and about or traveling. And these are perfect for that.
Male Diapers
Female Diapers
Key Benefits
Moisture-locking technology turns liquid into gel for mess-free cleanup. Designed to provide adequate coverage for male French Bulldogs.
Uncomfortable diapers are in the past, thanks to the soft, comfort-fit trim all around the wraps.
Features a Moisture-Alert Strip that changes color to signal it's time for a new wrap. That means a dry pup, and floors too!
Simple and quick to put on so you can ensure a snug fit.
Easy to use – they're a great option for use outdoors or during travel. Plus, they're available in different sizes to accommodate most Fenchies.
With the All Kind Wraps for male dogs, you will be able to protect your floors and furniture against unexpected Frenchie surprises.
These wraps are designed particularly for your boy Frenchie and are a great solution for urinary incontinence, excited urination or marking of their territory. They come equipped with moisture-locking technology which absorbs and transforms liquids into a gel.
It also comes with a built-in colour strip that changes colour when the diaper gets wet. You will always know when it's time for a diaper change. It is great in keeping your pup — and your floors — clean and safe.
The main benefit for disposable is that they are great for outdoor or travelling, plus they 're easy to put on in three simple steps, and they're ultra-wearable thanks to the comfortable edge trim and adjustable adhesive bands that won't pull on their coat.
---
2. Pet Magasin Washable Belly Nappies Male
For everyday use, we always recommend reusable diapers. This helps you with costs but are also better for the environment and can be much more comfortable for your Frenchie.
Key Benefits
Washable and reusable diapers are environmentally friendly, economical and easy to wash.
Keeps your floors, upholstery and furniture dry from excitement urination or incontinence.
Features a soft and comfortable texture that is non-crinkly to increases acceptance.
Fuzzy fastener closures are adjustable, easy to use and quickly secure nappy without sticking to fur.
Stretchy material conforms to the body without adding a layer of discomfort to pets.
Keep your Frenchie warm and dry with Pet Magasin 's Belly Nappies Male Dog Diapers! These washable, simple-to-use belly wraps are the best way to keep the inexperienced puppies and incontinent adults clean and dry.
The highly absorbent membrane prevents liquid leakage while a waterproof outer layer keeps spills away from your carpet, upholstery and rugs. The no "crinkle" texture of this wrap distinguishes it from others, making it wearable and even more convenient. Each kit comes in three bright colors.
---
3. Pet Magasin Reusable Dog Diapers Female
Here is our pick for the female version for your Frenchie for the reusable diapers.
Key Benefits
Protect your pup and his surroundings from embarrassing accidents.
Crafted with a soft and super-absorbent liner for your dog's comfort.
Made with a waterproof outer layer to help prevent against leakage.
Features a convenient cutout for your dog's tail so it can wag freely.
Contains 3 reusable diapers so you can save the environment from throwaways.
Pet Magasin Reusable Dog Diapers is a great way to provide your little Frenchie with a layer of accident safety. You'll be happy that you've been able to avoid a messy clean-up while training your French Bulldog, watching over a senior dog, or helping your girl in heat.
These eco-friendly options are made of soft and dog-friendly fabrics that are different from uncomfortable disposables. The inside of each diaper is lined with extremely absorbent material. At the same time, the outside layer is waterproof to prevent leakage.
They connect by hook-and-loop straps around your dog's waist and feature a cutout so that their tail can stay out.
---
4. FinNero Ballerina Heat Dog Pants Female
Ok, these are just as good as the others but a little bit more expensive though they are a lot prettier than the standard diapers. They are particularly useful for your little Frenchie that is on heat.
Key Benefits
Velcro fasteners make dressing your pup easy
Pants open from both sides for easier access.
Pocket inside to hold disposable sanitary napkin or towel.
Tail opening large enough for long or long-haired tails.
The perfect way to keep your dogs clean and dry.
These incredibly cute Ballerina Heat Pants are made for in heat or incontinent female Frenchies and are the perfect way to keep them clean and dry. Safeguard your furnishings, floors and rugs from blemishes with these easy-to-use, broad-waist ballerina pants. Featured with a special pocket to keep a disposable sanitary napkin, and has a tail opening.
---
5. Paw Inspired Washable Male Dog Wraps
Ok for our last one, just some nice jazzy colour for the boy Frenchie in your life. They are the wraparounds like above but a little different.
Key Benefits
These male dog wraps help protect your home from wee-related messes including potty training accidents, marking, excitable urination or incontinence.
Comfortable and secure fit features breathable layers, an ultra-absorbent core and leak-proof gathered edges.
Readjustable, pain-free fasteners resist sticking to your best friend's fur.
Durable, machine-washable fabric can be used alone or as a cover for disposable belly bands.
A cost-effective and eco-friendly alternative to disposable male dog wraps.
Paw Inspired Washable Male Dog Wraps provide an environmentally friendly and long-lasting alternative for the expensive disposable diapers. These male Frenchie dog wraps help protect your home from toilet training accidents, markings, and urination or incontinence.
Each belly band is made of an ultra-absorbent, breathable material that keeps your French Bulldogs comfortable and dry. The machine-washable fabric offers soft and stylish support on its own or as a cover for disposable wraps. Plus, it's easy to get on and off with adjustable fittings that won't stick to your best friend 's coat.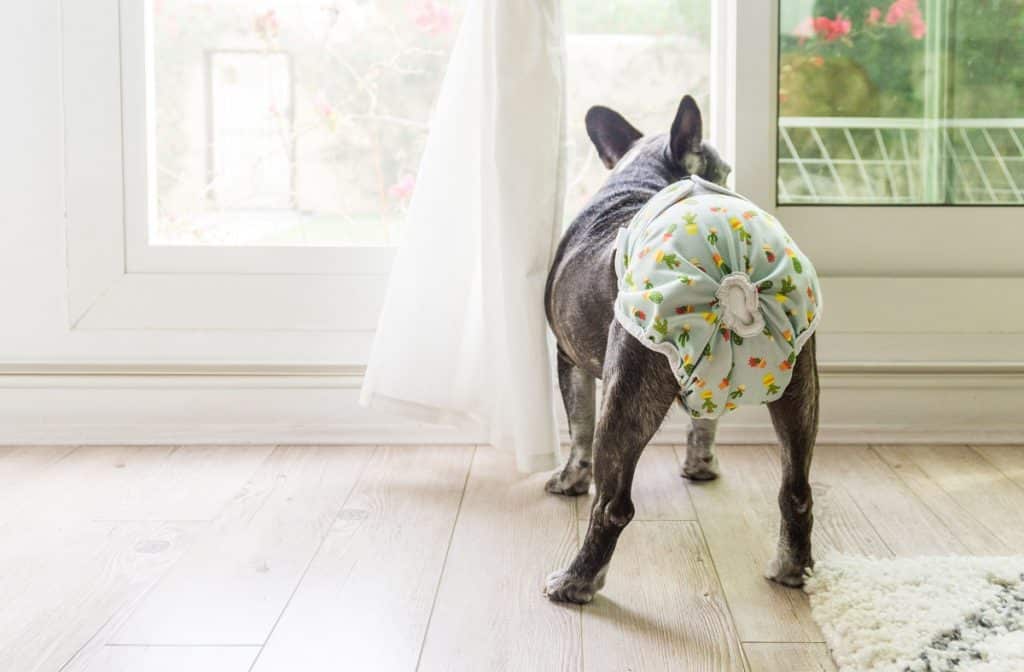 Recent Posts
link to My French Bulldog is Scared of Me - Why?
When you've got a dog at home, one of the most important things you can do is learn to understand what your dog wants and is feeling. However, sometimes, your Frenchie might look scared, maybe of you...
link to Are Brindle French Bulldogs Rare?
French bulldogs are a beloved part of many people's families. After all, what's not to love about those big eyes and almost comically large ears? Who wouldn't love cuddling up to an adorable Frenchie...